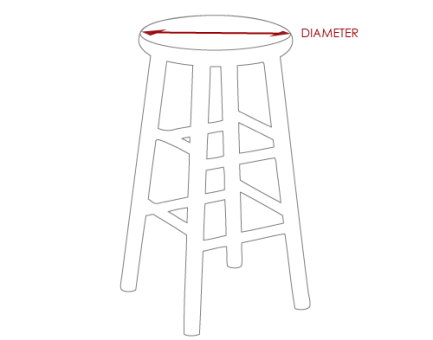 Many bar stools, dining chairs and other seating use round cushions. Follow these steps to ensure a proper fit for your custom cushion.
Measuring Tips
Use a firm (carpenter's) tape measure, rather than a flexible (tailor's) measuring tape for the most accurate results.
Keep in mind that when ordering, you will need to round up or round down to the nearest 1/2 inch.
Do not order new cushions based on measurements of your existing or old chair or stool cushions. Over time, cushions can become worn and the fabric stretched. Using these measurements will result in cushions that may not fit your furniture. Instead, measure the stool or chair on which you will use the new cushion.
How to Measure Your Stool or Chair
Dimensions

Measure the diameter of the stool or chair's seat.

Thickness

Decide the cushion thickness you would like.
Round cushions are available 3-8 inches thick (in 1-inch increments).