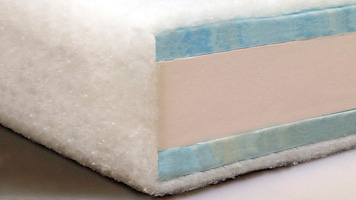 Quick Facts
Indoor or outdoor use
Weather/Water Resistant
5-Star Comfort
Foam core with Memory Foam MicroGel on top and bottom + batting wrap
100% shape retention
Weather-resistant liner by Hanes with a Teflon coating
More expensive due to Memory Foam MicroGel and construction of ticking shell, but will last longer and perform better than any other cushion fill
Luxurious, Water Resistant, and Long Lasting
Optimal Comfort Fill is the ultimate in comfort and weather resistance. Optimal Comfort is comprised of four layers to ensure comfort, durability, weather resistance, and longevity. This "best of the best" cushion filler is achieved by utilizing the best materials available.
Because these high-quality materials cost more to manufacture, Optimal Comfort Cushion Fill is somewhat more expensive than its predecessors; however, the unsurpassed quality will pay off when your cushions last longer and are more comfortable than you could imagine.
Optimal Comfort Fill is not only perfect for outdoor living, it's also more comfortable than any cushion on the market and will maintain this level of comfort for years to come.
The batting feature of Optimal Comfort Cushion will add ½ to 1 inch of loft to your cushion, in addition to the thickness you select. This loft occurs on both the top and bottom but not on the banding (sides). The amount of loft depends on the size of the cushion and the fabrics selected. The measurement of thickness will be taken seam to seam on the banding and does not include the loft added by the Optimal Comfort feature. Please consider this when selecting your cushion thickness.